ALEXANDER McCALL SMITH AND THE EGGPLANTS
The celebrated author Alexander McCall Smith (best known for The No. 1 Ladies' Detective Agency series) has been an eloquent (and profoundly appreciated) ambassador for the Kingdom of Eggplantis. He has unabashedly declared his fondness for the band in interviews and at book readings. There is also a subtle allusion to an Eggplants song in one of his novels.
In a singular moment of advocacy, Mr. McCall Smith even managed to promote the Eggplants in Time magazine. The erudite author had been asked to compose a "Short List" column that was to include some of his favorite artistic discoveries. After describing his penchant for 17th century Dutch paintings, and the Penguin Cafe Orchestra, he wrote the following: "Kenny Young and the Eggplants are a Brooklyn-based band that comes to the Edinburgh Festival Fringe every year. I am there in the front row. I shall be there in August when they visit Scotland again and play their very particular music."  (Time, May 4, 2009)
Mr. McCall Smith has also enthusiastically spoken of the Eggplants on radio broadcasts. When visiting WNYC in New York City, he was asked, "What's one thing you are a fan of that people might not expect?" His response: "A Brooklyn band called Kenny Young and the Eggplants."
An oblique reference to an Eggplants song ("My Dinner with Elvis," to be precise) appears in chapter 33 of AMS's novel, The Corduroy Mansions. In a conversation about things that may or may not exist, a character named Oedipus Snark says: "People see all sorts of things -- ghosts, UFOs, the face of Elvis in their pizzas and so on. If you believed half of what people claim to have seen, you'd be very badly informed." The text is accompanied by a drawing of the Elvis pizza by superb illustrator Iain McIntosh: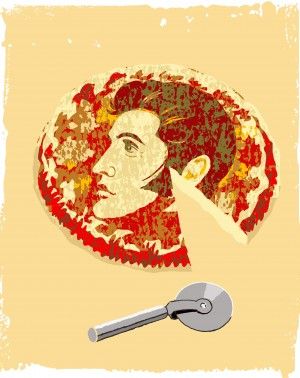 You can find Iain's website via this link:
The connection between the author and the Eggplants was further solidified when the band recorded an instrumental tune entitled "Don't Stand on the Cracks" for their Plantastic Voyage album. The tune was inspired by the adventures of a character named Bertie in the AMS serial novel 44 Scotland Street. The instrumental's title was suggested by Mr. McCall Smith and Lesley Winton.
Mr. McCall Smith first discovered the Eggplants at a show several years ago in Scotland. Since then, he has seen them perform numerous times in Edinburgh and New York City.
In addition to The No. 1 Ladies' Detective Agency series, he is the author of the 44 Scotland Street series, the Sunday Philosophy Club series, The Corduroy Mansions series, the Portuguese Irregular Verb series, and a multitude of other excellent works of fiction.  His website can be found at