HOLY COW! EGGPLANTS WIN HERALD ANGEL AWARD!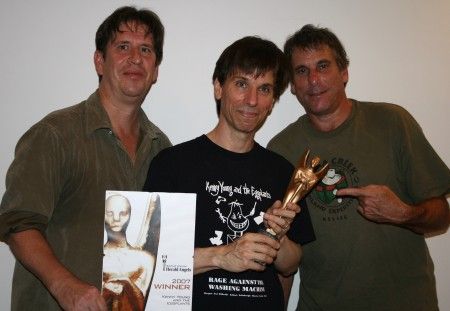 In 2007, the Eggplants won a prestigious Herald Angel Award for their performances at the Edinburgh Fringe Festival in Scotland. 
The Herald Angels are awarded to "celebrate excellence across the spectrum of artistic activity" and to recognize
"outstanding contributions to the festival."  
Eddie, Gil and Kenny attended a lovely ceremony at the Festival Theatre, where they received their angel statuette
(which they nicknamed "Harold").  Kenny cheerfully made some bad jokes about laundry and peformed a solo version of
"Rage Against the Washing Machine."
In the photo above, the Eggplants pose with Harold (and their framed winner's certificate).
For a time, there was video footage of the award ceremony on the internet, but that seems to have disappeared into the
internet ether.  You can still find the official list of award winners at this link:
http://theheraldangels.co.uk.s56934.gridserver.com/2007.html
and there are articles about the award-winners here:
and here:
http://www.heraldscotland.com/best-in-the-fest-are-loud-and-proud-1.863988
The Eggplants also received 4-star reviews from Scotland's preeminent newspapers, The Herald and The Scotsman.
If you would like to ponder the insightful words of these obviously sagacious critics, please visit the
"Reviews/Press" section of this website.